Push messages
Messages / Notifications

In your role as editor, you can send messages/notifications to the app users via the administration area ("backend"), which will be displayed in the app at the scheduled time.
Note: Messages are displayed only when the app is open.
At the time of publishing, messages appear in a pop-up window.
The most recent message is also displayed on the start page.
All messages are also listed on the page message in the order they were published.

Display of messages on home page and in pop-up window (mobile view)
Create and schedule a message
Navigate to > Content > Messages




The form for creating messages will open.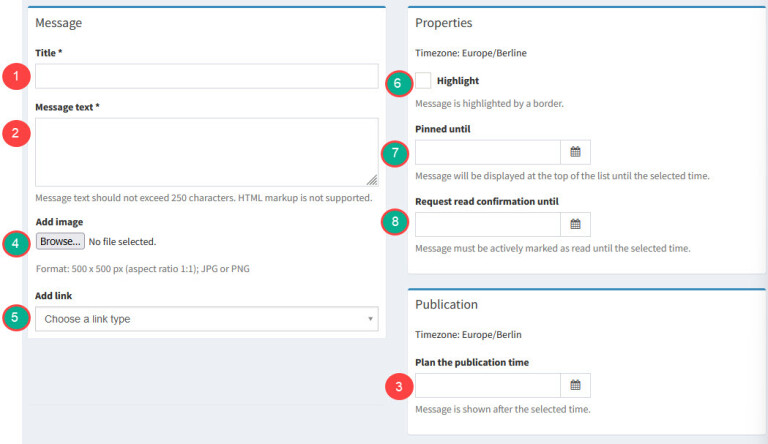 For each message the following mandatory fields must be filled in:

1. Title*
Recommended: 30-50 characters

2. Message text*
Recommended: 120 characters

3. Plan the publication time
You can prepare messages and publish them at a later date/time or send them directly. Clicking on the calendar icon will automatically insert the current time.


Finally, to send the message at the set publication date, click the button
Add - to save but stay on the page

Add and to overview - to save and switch to the list view

Add and new - to immediately create another message.



Related articles